After seeing her in Nowhere Boy (which I've still only seen parts of but really need to watch it properly) and on front rows of fashion week in Miu Miu, I have been in love with Ophelia Lovibond.
Her fashion choices are along the same vein of clothes worn by Zoey Deschanel, who I love also. I adored Ophelias choice of red carpet attire for the Nowhere Boy premiere, which was different to the boring body con dresses and floor length gowns worn usually by actresses. The navy blue colour and the peter pan collar make this dress refreshingly youthful and fun! I want it!
And here she is more recently at Coachella, looking stunning in a vintage looking playsuit, hair bow and glasses. I love a playsuit and a hair bow so I adore this look!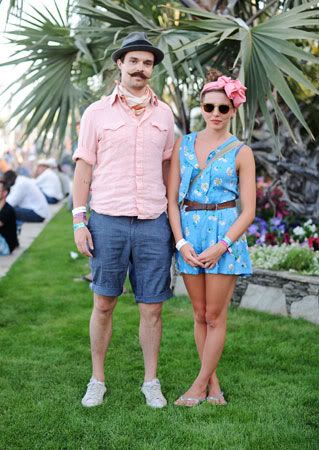 In other news I've had the loveliest week, spent with the best people soaking up the amazing sunshine we've had in london! I've had a picnic in Greenwich park, a rooftop BBQ and sushi in soho park! Photos to follow as soon as I've processed them :)
xoxo